In February 2020, a new business community was born in Tokyo's Yurakucho district. It is called Yurakucho SAAI Wonder Working Community (SAAI). It is a membership facility where company employees connect with one another across corporate boundaries as individuals. There, they take a first step toward equipping themselves for the betterment of society. They connect and interact with one another and put into practice what they have learned. The target members are entrepreneurs and potential entrepreneurs, particularly office workers in the Daimaruyu district (Otemachi, Marunouchi, and Yurakucho). SAAI is expected to attract a wide variety of people, ideas, and cultures, and become a launchpad of new projects. In this sense, it may be similar to Yurakucho micro FOOD & IDEA MARKET, the operating base of Micro STARs Dev. (*), a pioneering project for the rejuvenation of Yurakucho that began in December 2019.
*Yurakucho Micro STARs Dev.
It refers to a project aimed at creating a mechanism for producing "stars" for the next generation by cultivating (interacting with, tilling, nurturing, and polishing) people, ideas, activities, and goods whose values are yet to be determined (i.e., being "micro"). The project, whose platform consists of micro FOOD & IDEA MARKET, SAAI Wonder Working Community, and the entire district of Yurakucho, began on December 2 (Monday), 2019.

What is exactly going on there? We interviewed Norifumi Suzuki, CEO of 0Booster Inc., which operates SAAI, and Naoki Tsuji, a Mitsubishi Estate Co., Ltd. executive who has been involved in this project from the planning stages.
INDEX
・A new talent community emerging in Yurakucho, a 'soft' area adjacent to Hibiya and Ginza
・'Give first and take (later)' centered around practitioners
・A role reversal to happen among Japanese companies
・Key points
Norifumi Suzuki
CEO, 0Booster Inc.
Suzuki joined Culture Convenience Club Co., Ltd. in 1998, and subsequently became the head of the company's Corporate Management Office. In 2006, he founded Kids Base Camp, an afterschool program, and became a director, while also serving as senior director of new business development at M-Out Inc. In 2008, he sold the business to Tokyu Corp. and engaged in post-merger integration operations for three years there. In March 2012, Suzuki established 0Booster to support entrepreneurs, provide assistance to companies seeking to develop new businesses, and engage in investment activities. He is a member of the Global Accelerator Network.

Naoki Tsuji
Deputy-manager of the Marunouchi Development Office, Mitsubishi Estate Co., Ltd.
Tsuji graduated from the Faculty of Social Sciences at Hitotsubashi University in 2011 and joined Mitsubishi Estate in the same year. After joining Mitsubishi Estate, Tsuji was involved in the management of office buildings in Tokyo and Osaka, handling preparation work for the opening of newly constructed buildings, as well as work related to property sale. Suzuki was assigned to the current position in April 2019 to engage Yurakucho development projects.

A new talent community emerging in Yurakucho, a 'soft' area adjacent to Hibiya and Ginza
Tuji:The idea that gave rise to SAAI originated in a Mitsubishi Estate project established to discuss the future of Yurakucho. We wanted to maintain the dignity of Daimaruyu, but we also wanted to take full advantage of the fact that the area is in the vicinity of Hibiya and Ginza, thriving commercial and cultural districts boasted by Japan. We wondered if there was anything we could do to make Yurakucho more welcoming – although I do not mean this in a negative way – than Otemachi and Marunouchi by implementing measures that were different. We wondered how we could help individual company employees connect with one another across corporate boundaries. As we considered various options, we were surprised to discover that this area did not have any place where people could engage in extracurricular activities while belonging to companies, that is, where people could take on new challenges. This is how the idea of a facility such as SAAI emerged as a possibility.
Suzuki:This place may look similar to so-called incubation facilities as far as functions are concerned. However, the fundamental concept is completely different. The biggest difference may be that this facility is operated by people like us, accelerators on the side of the startup community. Most of the world's incubation offices or acceleration offices are run by entrepreneurs. Japan did not have any facility operated by such people. SAAI is truly unique even in this aspect alone. I believe that Mitsubishi Estate approached us probably because of this reason.
Tuji:There are other unique points as well. We have producers who help promote the Yurakucho Micro STARs Dev. project. We also have a system called STUDIO, which turns ideas into concrete projects. We have a great lineup of producers. For example, we have Hima Furuta, CEO of Umari, who handles various regional projects such as Morning University of Marunouchi and Roppongi Noen Farm. We also have Michiaki Matsushima, editor-in-chief of the Japanese version of WIRED magazine; Kazumasa Sashide, managing editor of SOTOKOTO magazine; and Yukiko Matsunaga, lecturer at the Center for International Research on Integrative Biomedical Systems at the Institute of Industrial Science of the University of Tokyo. They are all breaking the conventional mold in their respective field. STUDIO is created by such impressive members. We hope that more people working in the Daimaruyu area will join STUDIO projects, experience various fields that are completely different from their daily work, come in contact with ways of thinking and values that are different from their own, and get inspired.
We have also established a mechanism in which community managers play an effective role. There are communities where community managers merely serve as facility maintenance managers. We wanted to prevent that. So, we have "team fathers" and "team mothers" at Metamorphose, a bar we created inside the facility. Team fathers and team mothers learn the personality and the strengths of each of our members and serve as intermediaries to connect them with one another.
Suzuki: Innovations can only be born through diversity. Therefore, it is extremely important that the community become more diverse with the participation of team fathers, team mothers, and producers – the type of people ordinary workers in the Daimaruyu district do not usually have a chance to meet – and through various different ideas and projects.
It is extremely difficult for major corporations to create innovations all by themselves. Likewise, it is extremely difficult for startups to create innovations all by themselves. For this reason, both sides must create an opportunity to unlearn and relearn. We hope that they will eventually evolve and metamorphose themselves. This is why we named the bar "metamorphose." This is where the community metamorphoses people. It is not a mechanism or educational program that is at the center of what we do. Instead, it is practitioners and other actors who actually put something in motion that draw people and transform them. The community is also transformed as a result. This community is completely different from those operated by venture capital funds or investors. These communities are usually held together by money alone.
'Give first and take (later)' centered around practitioners
How does the community recruit members and manage its operations? It has "community managers" and "producers." However, this community does not appear to be a place where people gather just because there are such "connectors." Our interviewees explain how communications take place inside the community and how members interact with one another and with the management.
Tuji:Telecommuting is not our aim. We promote blending of people in the community. Therefore, we put emphasis on the screening of applicants. We ask them what they want to do. We ask them about their passion. We only admit people who could initiate something new, something different from their daily work.
Suzuki:Incubation offices of all kinds, or shared offices where employees of large companies gather, tend to be nothing more than a community of learning and input. They rarely encourage people to take action. Why does SAAI have STUDIO? It is because we want to provide an opportunity to act. Our community is designed in such a way that people can step out and take action. If you want to create value or act on your knowledge to improve society, it is not enough just to study.
We are an accelerator. We provide educational programs and help people act on their knowledge, launch businesses, and make investments. Such accumulated know-how is useful in the marketplace. It you study on your own, you may not be able to attain such a level. We doubt that there are many employees of major companies who have launched a new business. So, STUDIO gives them a little nudge. We hope that each SAAI member will be transformed into an actor and practitioner through such process.
Tuji:In that respect, one of the characteristics of SAAI is that there is no superior-inferior relationship between the management and the members. Our relationship is horizontal and egalitarian.
Suzuki: That is correct. People pay money to become members. Even so, in our interviews, we ask them what contribution they could make to this community. We want to maintain a "give first and take (later)" relationship in both directions – between us and our members. Therefore, it is important that both sides continue to make contribution to each other and take action while considering how to build upon this relationship. We do not have any superior-inferior relationship between major corporations and startups, or any hierarchical relationship based on job tiles. Members are all equal partners.
The idea of "give first and take (later)" is difficult to grasp. It is not something that many people can understand right away. After all, it is all about culture and atmosphere. So, we take the initiative and practice giving on our end. We believe that our action and attitude will gradually take hold and help foster a new culture.
If you visit Silicon Valley, you can see that this type of thinking is rooted in the community of entrepreneurs. You provide information first and actively connect with other people. The community is established only when this cycle operates smoothly. People who cannot join the circle, or those who cannot give back, will eventually leave the community.
A role reversal to happen among Japanese companies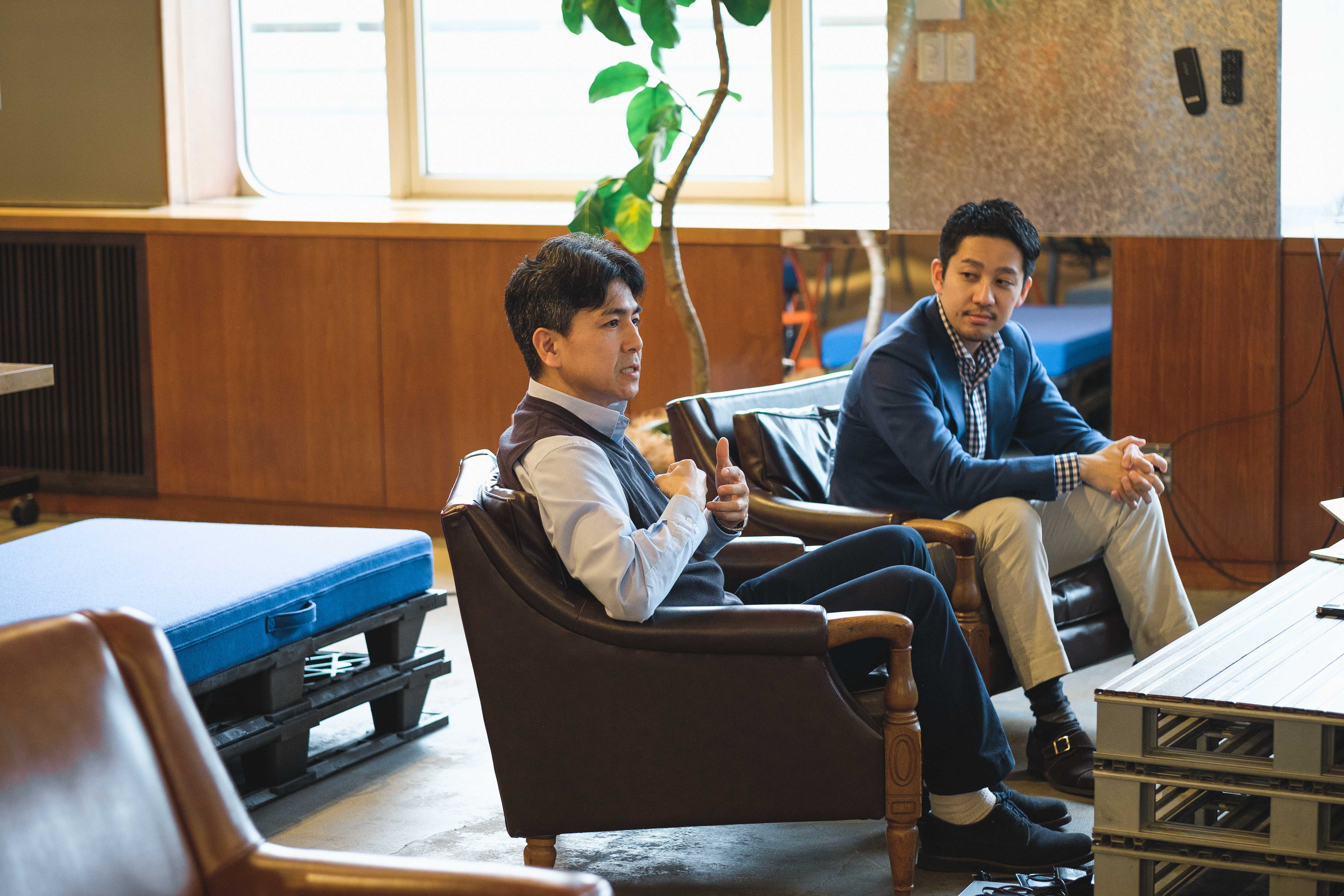 Suzuki says repeatedly that it is significant that SAAI is located in the Daimaruyu district. This is because the current relationship between major corporations and startups is about to change radically. Capable people are more likely to launch new businesses and walk untrodden paths. How does one get in on the action at this juncture? SAAI may provide a clue.
Suzuki:I have heard that recent years have seen an increasing number of University of Tokyo students who launch new businesses. The U.S., a startup superpower, is experiencing a similar phenomenon in a more pronounced way. Students who are extremely competent are more likely to create new businesses, while others tend to join major corporations. This may also occur in Japan in the future. We want people to be prepared for the arrival of such an era. The first step would be to transform their companies. We want them to obtain useful clues at SAAI so that they will be able to take action. We are in an outlaying area, which is 'softer' than the heart of Daimaruyu such as Hibiya and Ginza. Movements often begin in such peripheries.
From a global perspective, Japan is in an extremely precarious situation. Perhaps the time will come in the not-too-distant future when Japan can no longer be regarded an "advanced" nation. This is why we want people to visit places where they can come in contact with different values even if they have to take a long trip. We believe that there are innovations that can best be pursued by star employees of major corporations who are highly competent and who have easier access to large capital and resources that require authority. We are convinced that there is a way for these people to use their capabilities in a significant way – capabilities that have not been fully utilized.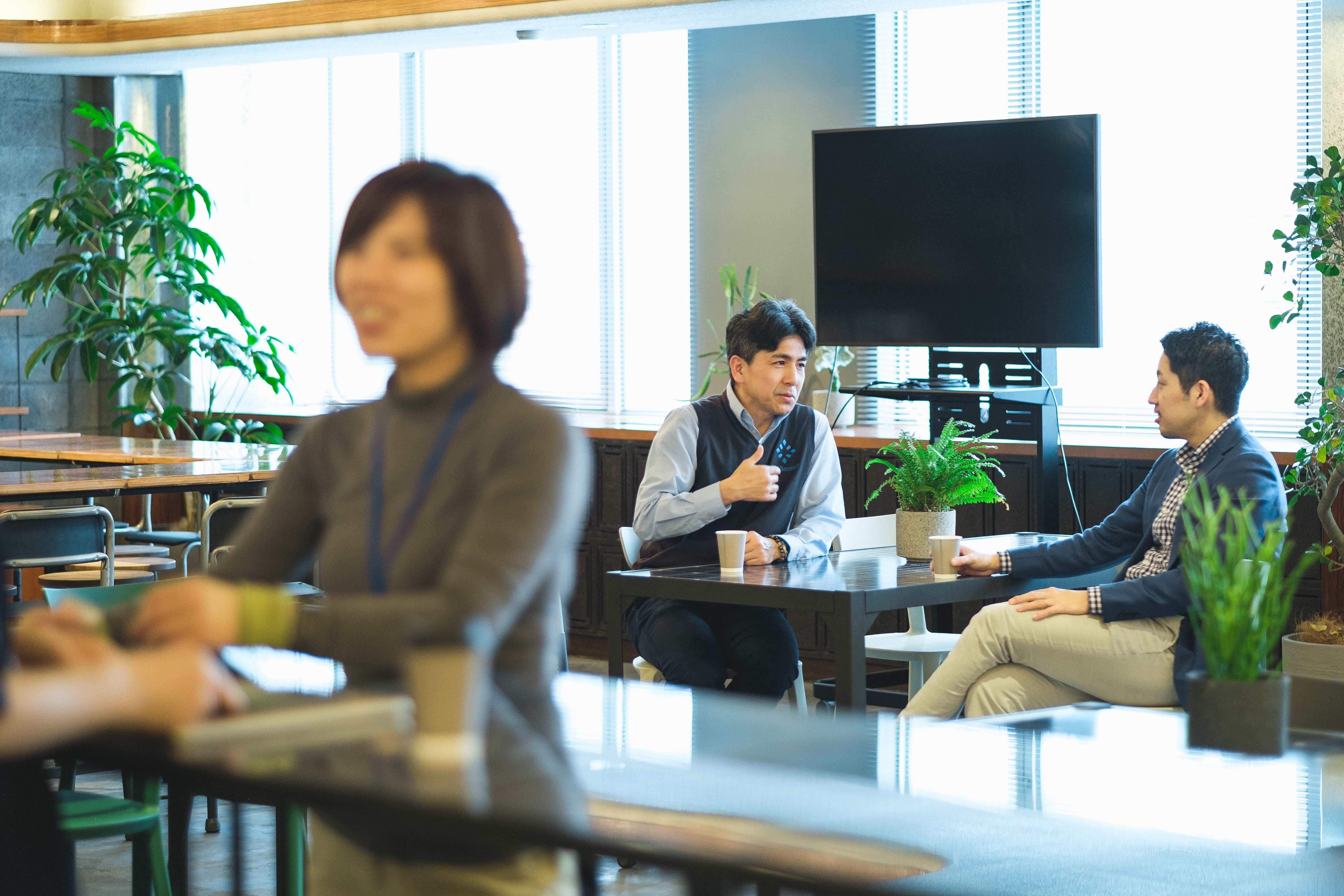 Tuji:About 280,000 people work in the Daimaruyu area. Perhaps 99% of them are so busy with their work that they do not have enough time to consider taking on new challenges. We call these people moyamoya-so (the restless crowd). We want them to realize that they can make a difference as long as they are willing. If they want to take action, or if they want to take action but do not have the courage to do so, they should definitely come to SAAI. We are a community of people who are eager to take a bold new step. You will definitely be encouraged.
Suzuki:We said many stuffy things, but our original plan is to create a place that is more welcoming than Daimaruyu. We used words like "mentoring," but we just want to create a place where people can easily come and talk, telling one another, for example: "I have this great idea." Even walk-in visitors are welcome to our events. Please come visit.
SAAI, where a variety of new challenges take place, already has more than 100 members. This article will conclude by sharing a few of their comments.
Hiroyuki Okumura (THREE)
SAAI is fastidious about each of its projects. I thought I could learn a lot. I feel that I will be able to pursue anything I want, and I will be accepted. For now, I am thinking about launching a studio of my own.
I am a manager and an engineer. Here at SAAI, I want to turn the seeds of an idea into a studio before launching a business. I also want to actively participate in SAAI events.
Takuya Hagimura, Takaaki Kurasawa (NRI digital, Ltd.)
We feel that we can meet all kinds of "eccentric" people at SAAI. We can never meet such people if we only work as regular company employees.
As far as the facility is concerned, there is a bar counter, a Japanese-style room, and a kitchen. There is a certain sense of chaos – but in a good way. This is all exciting.
We have vague feelings regarding certain themes. In the future, we want to express these feelings in words. We also want to discover themes that we really care about, and we want work with people who have different values to create solutions.

Isao Ozawa (FINDSTAR Co., Ltd.)
I participated in an event that SAAI hosted before this facility was opened. I became a member because I felt that SAAI was making genuine efforts to create a community. It is my first year as a full-time businessman, but I manage multiple companies. This place was very attractive because it would let me pursue many challenges.
In the future, I want to launch my own studio, and participate in studios in the fields that interest me.

Key points
・SAAI is a membership community where company employees connect with one another, interact with one another, and take action across corporate boundaries.
・SAAI is unique in that it is operated by accelerators on the side of the startup community
・SAAI has a mechanism to allow community managers to play an effective role, while "team mothers" and "team fathers" serve as intermediaries among members
・SAAI provides members with an opportunity to unlearn and relearn
・The management and the members are in a horizontal relationship; they act on the principle of "give first and take (later)"
・SAAI will be more welcoming to people than other locations in Daimaruyu; it will spur a movement from an outlaying area