The Mitsubishi Estate Co. Ltd. exhibition at
CEATEC 2019
was held at the Makuhari Messe from October 15-18, 2019. The topic was, "The intersection of technology and the future. A new flavor of city, Marunouchi."
The Mitsubishi Estate Co. Ltd. exhibition at CEATEC 2019 was held at the Makuhari Messe from October 15-18, 2019. The topic was, "The intersection of technology and the future. A new flavor of city, Marunouchi."
Under the mission of "xTECH (crosstech)", which is also the name of this media, Mitsubishi Estate Co. has not been limited to its conventional real estate business, creating new projects that create interactions between various companies not limited to "hardware," such as buildings and shared offices, but also in promoting "software" such as providing proofs-of-concept, meet-up events, and communities.
INDEX
・Searching for partners to create cities where startups and large companies can come and go
・The imagination of Mitsubishi Estate that has been developing Marunouchi for over 100 years
・Efforts to create open innovation through city planning
・Establishing a Tokyo Marunouchi Innovation Platform (TMIP) to promote collaboration between large companies
・Mitsubishi Estate is also taking the lead in promoting open innovation
・Takeaway
Searching for partners to create cities where startups and large companies can come and go
The aim of exhibiting at CEATEC since last year has been to "gather partners" with which to develop "cities," regardless of whether they are large companies, startups, or government.
CEATEC 2019 featured a booth with the Otemachi building—currently under large-scale renovation as its motif—presenting various robots including SEQSENSE'S autonomous mobile security robot "SQ-2," which has been introduced in the Marunouchi area, and Softbank Robotics' AI cleaning robot "Whiz."
Reated Article:三菱地所が丸の内で描く「ロボットと共存する未来」
In addition to the display of robots at the booth, a mini session was held. Here, resident startup companies or those which had received funding from the collaboration platforms for Japanese and overseas startups operated by Mitsubishi Estate Co. (EGG JAPAN, Global Business Hub Tokyo, FINOLAB, Inspired.Lab), took the stage. Visitors sat and listened to the mini session.
The imagination of Mitsubishi Estate which has been developing Marunouchi for over 100 years
Here, I will touch on the conference held by Futoshi Chiba (Executive managing officer, Mitsubishi Estate Co.), held on October 18th during CEATEC. The theme was how Mitsubishi Estate Co., which has been engaged in city planning for more than 100 years, has so far been developing cities and the "OPEN INNOVATION FIELD," which will make efforts in anticipation of the future "Society 5.0."
Futoshi Chiba
Representative Corporate Executive Officer, Executive Vice President at Mitsubishi Estate Co. Ltd. Joined Mitsubishi Estate Co. in 1984. After serving as the Yokohama branch manager and executive officer, he became President & Chief Executive Officer of Mitsubishi Jisho Property Management Co. in 2015. Incumbent from April 2019.
The conference opened with an introduction of how the Marunouchi area has kept up with changes in urban development thus far. The Marunouchi area is one of the world's leading business districts, at about 123 hectares, or about 26 Tokyo Domes, containing the headquarters of 115 listed companies and about 280,000 people. Mitsubishi Estate Co. owns or operates about one in three of the approximately 100 buildings in the Marunouchi area.
Development of the Marunouchi area began in 1890 in response to the request of the Meiji government who sold land for development in the Marunouchi area, and the first stage of development began. In the 1960s, a second stage of development was completed to provide a large quantity of offices to keep up with the High Speed Economic Growth period. What is being accomplished today is tertiary development involving multifaceted development, not only of hardware such as buildings, but also soft aspects.
Thus far, Marunouchi has been building a brand as a "place of work" by creating an office-specialized district, but tertiary development began from the idea that this alone was not enough. A wide variety of functions are being implemented in the district, such as "crowd capabilities" for holding events that visitors can enjoy and "culture / tourist city capabilities" that retain a cultural flavor through art galleries, etc. In addition, daycare centers and medical clinics that allow foreigners to visit with peace of mind are being built as "employment support functions."
One of the initiatives that Mitsubishi Estate Co. is now particularly focusing on is "Industry-academia collaboration, incubation, and innovation functions," which is also today's theme. This is an effort to create a city by constructing an innovation ecosystem.
Chiba: "An ecosystem is a network of modes of life." An innovation ecosystem is a mechanism that creates new value by circulating various people involved in innovation such as entrepreneurs, VCs making investments, lawyers, and accountants.
The past 20 years have seen redevelopment to transform the Marunouchi area into an "open city." However, over the next 20 years, we will build an innovation ecosystem and develop Marunouchi to become an "OPEN INNOVATION FIELD," where creative innovation is born.
Efforts to create open innovation through city planning
Open innovation is an effort to create new value through collaboration between large corporations, startups, government, and academia. Due to the rapid evolution of IT technology, intensifying global competition and the shortening of product life cycles, there are limits to the independence of innovating with our own resources. Therefore, it is difficult to endure future competition without making use of external technologies and ideas.
Mitsubishi Estate operates four facilities for companies to create open innovation. One of these is "EGG Japan." This consists of a business development office and a membership-based business club, the "Tokyo 21c Club," and forms a base for companies expanding overseas and cutting-edge startups in Japan. Holding over 250 events each year, it is used as a place to share various skills and knowledge.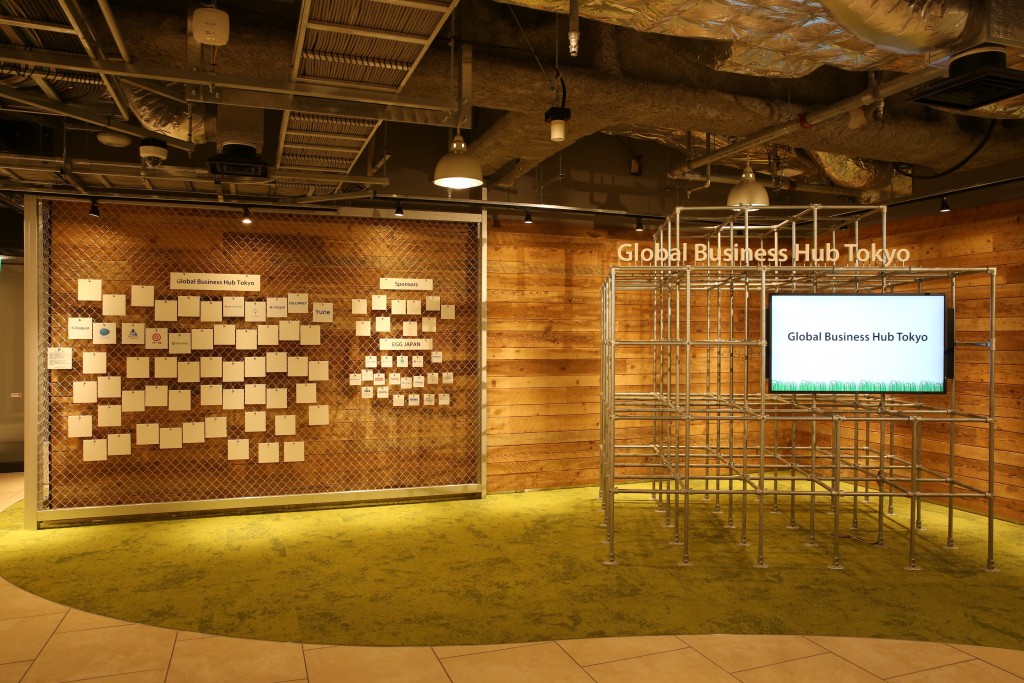 Global Business Hub Tokyo is positioned as an EGG JAPAN partner facility. Reflecting the needs of the startups that Mitsubishi Estate Co. has already nurtured through the operation of EGG JAPAN, this large-scale facility opened in July 2016; about 70% of companies that move in are foreign companies. In addition to being able to join the Tokyo 21c club at the same time as moving in, the facility also features a 200-seat event space.
FINOLAB has been developed and positioned as a base for creating innovation through financial technology. It is mainly startups in the fintech space that gather here and use it as a place for growth. Taking advantage of the characteristics of Tokyo's Otemachi district, one of the world's leading international financial centers, the number of occupancy requests greatly exceeded the number initially expected, and the facility was expanded immediately after its opening.
The most recent facility, opening in 2019, is Inspired Lab. It is used by companies using cutting-edge technologies such as AI, IoT, and robotics. Copying areas such as London and Silicon Valley where world-class startups congregate, you can also enjoy music and great coffee. To induce co-creation, whiteboards are installed throughout, creating a mechanism enabling meetings in open spaces. Particularly since we are now in the digital era, emphasis is placed on analogue, face-to-face meetings. Furthermore, it features a maker space (studio) with 3D printers and laser equipment, making it possible to create prototypes on-site.
About 150 startups are resident across the four facilities, and this alone is becoming a base for co-creation. In addition to providing workspaces, we also conduct matchmaking events between companies and make efforts to support proofs-of-concept, providing multi-faceted support to startups in both hard and soft aspects.
Chiba: "Our efforts were also featured in the Nikkei Sangyo Shimbun. The article concludes with the line, 'the formation of a new ecosystem in which large corporations, startups, and VCs can come together has begun.' I'm glad that what is taking shape is exactly what we have been aiming for."
Establishing a TMIP to promote collaboration between large companies
The TMIP was established to accelerate the formation of the open innovation field in the Daimaruyu area. With large companies as members and collaborating with partners from venture capital, academia, and government, it is a platform for creating innovations. The TMIP offers the "Urban Lab" program, which covers member companies' search for collaboration partners up to creating a proof-of-concept.
Chiba "The Urban Lab proposes candidate partners from a wide network spanning industry, government, and academia and arranges interviews. Once a project is launched, the Marunouchi area can be used up to the point of demonstrating needs. Moreover, through collaborations with city planning groups and supporting administrative consultations with the police, government, etc., we are implementing proof-of-concept demonstrations that are usually difficult for individual companies to accomplish.
For example, experiments, such as running self-driving buses on public roads and proof-of-concept of running segways, can require over a year to complete. The fact that Japan does not determine these by law and are prohibited means each one must clear the conditions for a proof-of-concept experiment in cooperation with the government. TMIP is an organization that brings together the government and its partners and supports this.
In addition, through these activities, we also plan to provide advocacy (policy recommendations, support for deregulation)
Mitsubishi Estate is also taking the lead in promoting open innovation
Mitsubishi Estate is committed to the creation of an open innovation ecosystem in the Marunouchi area but is also actively promoting open innovation in-house. We are creating new value while actively expanding opportunities for partnerships with startups, such as by implementing a corporate accelerator program to create new businesses.
We are also actively investing in startups. Total investment amounted to 10 billion yen in 2019, with investments in a wide range of fields. As an example, Hmlet Japan was established in partnership with a Singaporean startup, entering the co-living business. Moreover, we are seeking to collaborate with startups in a wide range of fields, such as entering the agricultural business by establishing MEC Agri Ltd., which produces high-sugar mini tomatoes, as a joint project with a domestic startup.
Chiba: "We are proceeding with the 'Tokyo Station Front Tokiwabashi Project' as a future prospect. We plan to complete a new 212 m building in 2021 and a new 390 m building in 2027. By using these facilities, we will strengthen the 'Proof-of-concept' x 'External collaboration' project with a view toward 'Society 5.0.'"
There is support for startups that can only be provided by Mitsubishi Estate, which has been in urban development for more than 100 years. By bringing together Japanese and foreign startups in Marunouchi, Marunouchi will become a more challenging and attractive city.
Takeaway
・Mitsubishi Estate exhibits at CEATEC 2019 with the theme: "The intersection of technology and the future. A new flavor of city, Marunouchi."
・The aim of the exhibition is "Gathering partners" to develop the city together.
・Tertiary development is currently underway in Marunouchi, developing not only hard aspects such as buildings but also soft aspects.
Planning:Yohei Azakami
Editing:BrightLogg,inc.
Writing:Kohei Suzuki
Photography:Nobuyuki Kawai