Recently, "open innovation," in which big companies and startups collaborate, has been expanding.
If two companies with completely different corporate cultures share the same aim, an important factor that will determine the fate of the business is whether the partners (contacts in the other company) can be trusted. If you don't know the partners personally, you may have already begun to evaluate them from the division of responsibilities up to the kick-off meeting, the language of e-mails, and phone calls.
From there, if you meet in person, the impression given to the partner will be determined in an instant. Essentially, people are drawn to the first impression. In a brief moment, a decision will be made about whether the future relationship will be good or bad.
In 2005, the book "A Person's Look is 90% (Author: Ichiro Takeuchi)" was published by Shincho Shinsho, and the phrase "arguments can't beat looks" was presented. Since then, we have unconsciously inferred the identity of other people from their appearance, even for "family," and it is no wonder that we now apply the same agenda to dealing with cross-cultural partners. Now that there is more diversity among people than when the book was published, I would like to think about the impression that we give to others when we are well-dressed.
INDEX
・Clothes and fashion tend to be confused, but they are different
・Whether the look gives a fresh and neat impression
・BEAMS' seal of approval. Try to wear clothes that create a fresh and neat impression
–Style 1 for men, casual x traditional, worn with everyday denim
–Style 2 for men, adult business silhouette using a jacket with small patterns
–Style 3 for women, high-quality business casual, letting frankness look glamorous
–Style 4 for women, lady-like pants casual, exuding a scent of inner intellectualism
・Takeaway

Mahito Morioka
PR director, PR Strategies Department, BEAMS Creative Inc
フMahito enrolled in university at the time that Classico Italia (specifications created by a tailor who was a member of the Classico Italia Group, which was formed in Florence in 1986, to produce ready-made products that prioritized mass production and production efficiency, using high-quality materials and techniques, and taking over the silhouette that was often used in old-fashioned Sartoria (= tailor shop) handicrafts) was in full swing as a fashion trend. Around the same time, he started working part-time at BEAMS F and became a full-time employee after graduating from university. As a member of the sales staff of BEAMS F at BEAMS HOUSE in Roppongi, he proposes styles suitable for the everyday business scene.
Clothes and fashion tend to be confused, but they are different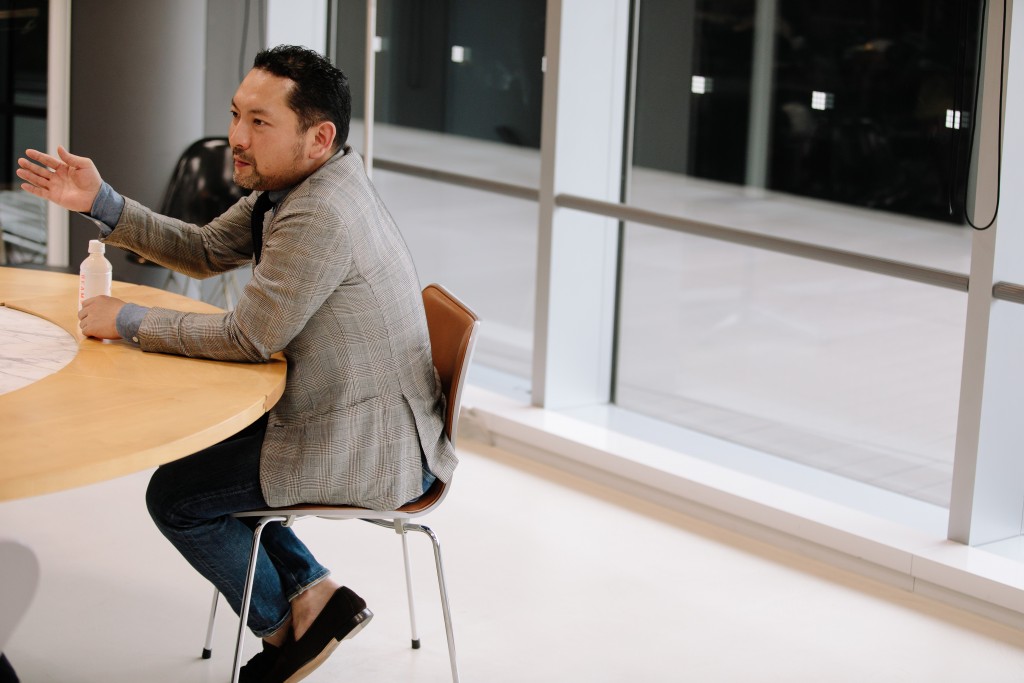 Morooka: Let me start with the difference between "clothes" and "fashion," which I have been talking about often recently. Although the two tend to be classified as the same thing, they contain essentially different elements. The difference is that clothes are defined as things you wear and select according to the "function" of protecting the minimum morals necessary for people to have social lives and adjusting for the hot or cold temperature. You can't leave your house naked. In other words, we can rephrase it as a medium that is in harmony with the outside world rather than ourselves, that is, society. On the other hand, fashion is more about entertainment and your private life. It satisfies a more self-centered desire and is not as conscious of other people as office casual. Therefore, it is important to separate clothes and fashion by differentiating between their uses and purposes.
Assuming that you select the clothes you wear on weekends from the "fashion" perspective, you need to select the clothes you wear in a business scenario with the functional aspect of "clothes" in mind. This is because it is something that clarifies the relationship with other people and their position in society. So what benefits can we gain by properly utilizing the "function" of clothes?
Morooka: I think that the way people treat you changes depending on the clothes you wear. As for my own experience, when I was in my twenties, I lived in Europe for a while, and I felt that in various ways. I've always loved suits and jackets, just like the one I'm wearing today, and when you are dressed like this, treatment in places where service is provided, such as restaurants, is quite different. Looking back, I wonder if it was because I wore "clothes" suitable for the "place" where service was provided, regardless of my age. In the end, you can earn the trust of the other person with simply a different appearance.
This is the personal experience of Mr. Moroka, but the same can be said for a place of business; attending important presentations, important business talks, and first meetings with business partners. If we look into it, the fact that your appearance is suitable for viewing a presentation, as well as TPO, also makes the content you talk about or listen to more compelling, and improves the chances of business. In fact, we may have unknowingly noticed that, without saying a word, just being well-dressed works appropriately as a form of non-verbal communication.
Morooka: In other words, choosing clothes while thinking about the content of the meeting and the people you will meet is synonymous with having consideration for others. One way of choosing clothes leads to smooth communication inside and outside the company. For example, if I was wearing an Aloha shirt and shorts today, and started saying "Well, a suit to wear in a business scenario…", you may think I'm crazy (laughs). As long as a person is representing a company, that company will be judged by how this person dresses. Having an appearance suitable for the occasion also avoids unnecessary miscommunication, not only about yourself, but also about the company and the people you are interacting with.
Whether the look gives a fresh and neat impression
What should we be aware of first, in regard to the aspect of "caring for others" when choosing the clothes that Mr. Morooka mentioned.
Morooka: What you want to be most aware of is the fresh and neat impression. In principle, torn jeans, dirty sneakers, and shabby shirts and collars should not be used, for example, even if they are stylish in terms of fashion. When it comes to identifying the problem, there are too many negative factors. Of course, you must be clean, which includes being hygienic, but furthermore, you need to think carefully about whether you are giving a fresh and neat impression. No matter how carefully you iron a bright yellow suit or a wacky jacket, a lot of people will not consider this appearance to give a fresh and neat impression. Also, aspects, such as being tidy and smelling good deviate slightly from the point of discussion. The fresh and neat impression is different from the impression of being fashionable or different.
Specifically, the three elements to selecting clothing that creates a fresh and neat impression are shape, material, and size. Most importantly, the emphasis should be on the fit of the business attire, that is, in terms of size.
Morooka: When I was serving customers at the store, I always felt sorry that just a few centimeters of hem would make their appearance much more refined. This is especially true for female customers, but they would take the item home, even if the sleeves were clearly too long. No matter how well-tailored the clothes are, it gives the impression of a little looseness overall. So, even though the person chose clothes that are appropriate for the occasion, the result is a waste.
Surprisingly, sometimes you may not know the right size that fits your body. Compared to career women, businessmen will be more aware of the fit because they wear suits on a daily basis; if you have worn your favorite suit continuously for many years, it might be a good idea to be conscious of your stature, whether it fits your body shape compared to when you purchased it. If you are not sure, it's probably best to leave it to a professional. This is because, with regards to fit, there is no one-size-fits-all, based on height, figure, and balance between the top and bottom, etc. Each individual has a cut that is most suitable for them; it's not as easy as simply saying how many centimeters we should cut based on numbers.
Morooka: Please feel free to ask me any questions. This may feel like a bit of a burden, but as a professional clothing store, we want our customers to wear good clothes, including those that fit well. Of course, clothes should be made from good materials and be the result of good tailoring, but also, when you wear them they should have a good fit that matches your personality. Those who know about quality, not just for clothes, subconsciously understand what is a good fit for their bodies. That feeling can be said to be a fertilizer of the aesthetic sense that is applied in situations other than clothing selection. We want to offer such genuine goodness from the perspective of clothes and fashion.
BEAMS' seal of approval. Trying to wear clothes that create a fresh and neat impression
With all the information, we put together a combination that can be used in a business scenario with specific items. First, both men and women should be conscious of the rule of "up to one casual item." The Adidas Stan Smith, which are representative low-tech and basic sneakers, and denim that is not too light in color are used as standard items. Also, a dark blue jacket is a versatile item to have, which makes it easy to complete your style. Overall, black, white, dark blue. and gray are used as base colors, making it easier to create sophisticated impressions.
Style 1 for men, casual x traditional, worn with everyday denim
This is arranged based on denim that we have many opportunities to wear on a daily basis. The overall impression is achieved by aligning the jacket and shoes to the same dark density as the denim color. It should be noted that thin denim pants (which give a casual impression) and bright-tone shoes should be avoided in business situations (there is a possibility that the overall tone may be lost and give an impression of carelessness). Also, make sure that the denim pants are not too long.
Style 2 for men, adult business silhouette using a jacket with small patterns
This is for dressing down from the usual business style. Softness and frankness are added by replacing the usual jacket with a modest one with small patterns and a number of colors. This time, a zigzag pattern is used. When you don't know the person in charge at the place you are visiting well, this can balance friendliness with a well-organized impression. People tend to stay away from patterned items, but if you combine the other items with a solid color, you can easily add a fashionable sense.
Style 3 for women, high-quality business casual, letting frankness look glamorous
The styling is based on pastel colors that form a soft impression. A neat atmosphere is created by the off-white jacket, and an overall feeling of effortless is produced by taking it off and wearing sneakers on your feet. The loosely tied jacket belt and the flared skirt that spreads in an A-line form an elegant and feminine silhouette. In scenarios where you want to give a more solid impression, it is better to combine this with pumps of a soft color similar to the skirt. Above all, a beige suede material is the best choice.
Style 4 for women, lady-like pants casual, exuding a scent of inner intellectualism
If you want to create a sophisticated style, you can choose one color as the basic color, such as white, black, gray, or navy. This is a pants style, wearing the blouse used in Style 3 and with a bow tie that will attract people's gazes. It forms a not-too-rigid impression, while tightening the overall image with a navy jacket and giving a masculine look with checked boot-cut pants. It is important to wear it with heels for a lady-like finish and to have a good sense of length for each item when combining the jacket and pants. With a little care, you can improve your style.
Credit: BEAMS
Takeaway
・"Clothes" and "fashion" are different.
・"Clothes" are selected according to their function and are intended to harmonize appropriately with society.
・"Fashion" satisfies self-centered desires.
・A "fresh and neat impression" should be considered when choosing clothes for others.
・"Up to one casual item" can be used in a business scenario.
Planning:Yohei Azakami
Editing and Photography:BrightLogg,inc.
Writing:Yuria Koizumi