In recent years, the use of the Internet of Things (IoT), as represented by "smart cities" and "smart cars," has attracted attention. As evidence of this, IDC Japan announced that the market size would grow at an annual average of 12% or more, reaching 12.6 trillion yen in 2024.
However, developing IoT-related applications capable of real-time processing by conventional methods is complicated and time consuming. To resolve this issue, the U.S. company Vantiq provides an "event-driven application development platform."
Vantiq already provides services in Japan and is supporting the development and introduction of IoT-related systems that can start rapidly and evolve agilely. This time, we spoke with Kawakita Jun, President and Representative Director of Vantiq Japan, Vantiq's Japanese corporation. "IoT is essential for DX of various companies and industries, but not many people can think about how to use it in an event-driven fashion yet," says Kawakita. How does he view the current state and future of IoT in Japan?
INDEX
・What is an "event-driven" system that enables real-time services?
・Complex systems, such as dispatching apps, can be easily developed with Vantiq
・Hacking COVID-lifestyles with event-driven systems
・Smart cities cannot exist without event-driven systems
・Key points
Kawakita Jun
President and Representative Director, Vantiq Japan
Born in Tokyo in July 1959. Graduated from the Faculty of Commerce, Chuo University. In 1985, he joined Ungermann-Bass K.K. (the Japanese subsidiary of U.S.-based Ungermann-Bass, Inc.), the long-established LAN company. In 1989, he transferred to Net One Systems K.K. (joint venture between Ungermann-Bass and Mitsubishi Corporation). In 1994, he established MVP Co., Ltd. (now SameClick Co., Ltd.) and assumed the position of President and Representative Director. In 2016, he became the Senior Managing Director at Allied Telesis (K.K.). In 2019, he was appointed President and Representative Director of Vantiq Japan.
Writings: Netto defure [Net deflation] (Mainabi Shinsho), etc.

What Is an "Event-driven" System That Enables Real-time Services?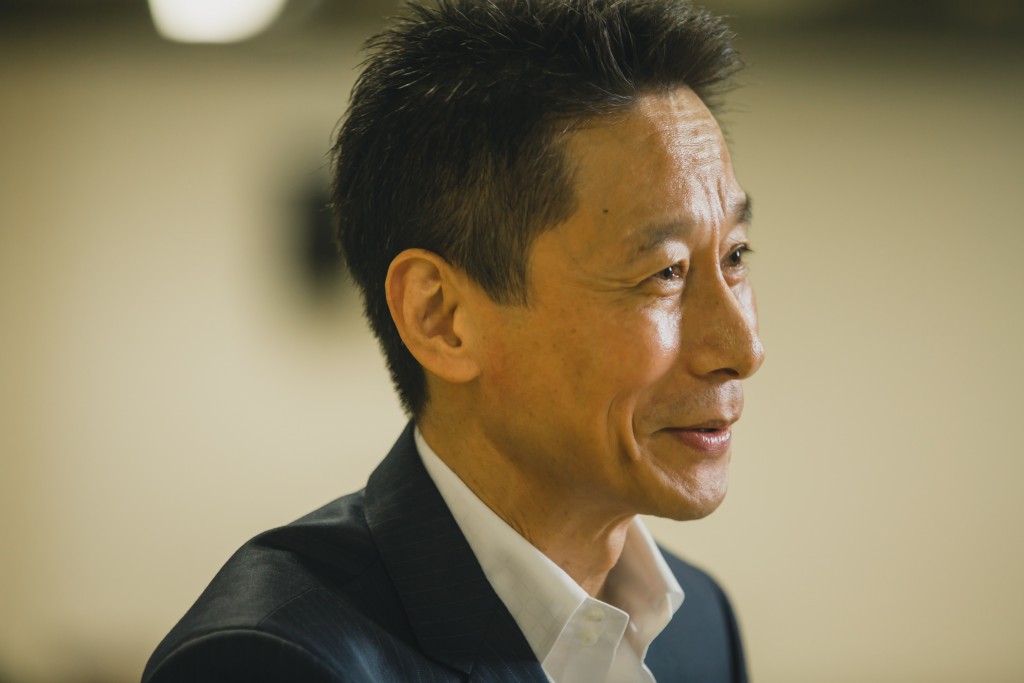 Kawakita first explained how Vantiq's "event-driven" system operated differently from conventional systems.
Kawakita"For example, let's say we're developing a system to 'switch the air conditioner on when the temperature reaches 30°C or higher.' Conventional technology follows a procedure that first stores temperature data in a database, then searches for data indicating that the temperature has reached 30°C or higher and turns on the air conditioner. As some steps go through the database, it cannot respond in real time.
On the other hand, an 'event-driven' system would specify the event 'temperature reaches 30°C or higher' on the data stream and take action (switch on the air conditioner) when the event occurs. It is more real-time than conventional methods, and can perform actions immediately when an event occurs.
'Event-driven' systems are not necessarily superior to conventional systems. Databases are essential for business systems and big data analysis. On the other hand, event-driven systems are absolutely necessary to react in real time to IoT sensor information."
Kawakita continues, "Event-driven systems have actually been around for a long time and are certainly common. But, Vantiq has made it easier to develop more complex systems."
Kawakita"It is easy to make a system that performs one action for one event. However, what if the system is to 'turn on the air conditioner when the temperature is 30℃ or higher and the humidity is 50% or higher for 1 minute'? If the temperature and humidity sensors are operating individually, you'll inevitably want to use a database to confirm that the conditions of 30℃ or higher and 50% or higher have both been fulfilled for 1 minute, and using it will sacrifice the real-time nature. If you're a very skilled engineer, you may be able to develop something without using a database, but the design will be complicated and not flexible for adding sensors or adjusting setting conditions, etc.
Vantiq's low-code development platform automatically generates complex programs like this behind a simple development process. Even if you're a less experienced programmer, you'll be able to quickly create a system that would have been difficult to put together unless you're a skilled engineer."
Complex Systems, Such as Dispatching Apps, Can Be Easily Developed with Vantiq
Kawakita says that Vantiq can easily create complex systems, but what kind of systems can be considered "complex systems"?
Kawakita "A car dispatching app is an easy-to-understand example. It has to connect a dispatch order that could come at any time and from anywhere with the driver of a vacant car driving within 3 kms from that place at that moment, for example. Working in real time is important in order to connect dynamically changing pieces of information. It incorporates a complicated system, such as preventing other drivers from accepting an order once one driver has accepted it if there are multiple drivers of vacant cars within 3 kms.
There is also the example of security systems using surveillance cameras. Surveillance cameras with AI functions operate at airports. If a person and a suitcase have been moving together and suddenly the suitcase is left behind by itself, there is the dangerous possibility of explosives. When the AI detects this situation, it notifies a nearby security guard and directs the guard to check the suitcase. This is complicated because we don't know when and where the dangerous event will occur, and because security guards' assignments at the time of the event change fluidly.
Moreover, Vantiq is better for real-time events and easy interaction with various systems. Using the dispatch app example, Vantiq provides all of the driver information databases, the web service that provides GPS information, the drivers' smartphone app, and the links between them."
Kawakita says that if an event-driven service can be easily created, it becomes possible to respond to more detailed needs of the world.
Kawakita "For example, motor insurance is not able to respond to detailed needs. The insurance premiums for one car are the same whether commuting to work alone or traveling as a family. Relatively speaking, the people who use their cars alone are losing money.
If you were able to create an event-driven motor vehicle insurance service, you would be able to dynamically set premiums for the number of people. For example, if the driver is driving alone, you can set a low premium, and if an in-vehicle camera detects that they have picked up a friend on the way, you can send a notification to the driver's smartphone and switch to the premium for two people. Then, if the driver lets the friend out along the way, you could return to the premium for one person again.
Besides this, you could link to GPS and switch insurance premiums between driving on familiar commuting routes and driving on unfamiliar roads, such as to distant destinations. In this way, you can provide finely-detailed services in real time in response to the dynamic changes in our lives."
Hacking COVID-Lifestyles with Event-driven Systems
Kawakita tells us about the possibilities of Vantiq based on a variety of cases. What kind of services could be created in the era of COVID-19?
Kawakita"People are afraid of exposure to infectious droplets from coughing in the office for example. By linking a multichannel sound sensor that identifies where the sound originates and AI that identifies the sound as a cough, it is possible to suck the surrounding air into the ceiling duct as soon as a cough is detected. Responding in real time to coughing that could occur any time and anywhere is just the sort of thing you can do with an event-driven system.
Also, when entering a building there are a variety of other checkpoints to verify masks, disinfect hands, and measure body temperature. It is easy to check these things. However, systematizing the response after the check-up requires a different follow through, depending on the person and circumstances. For example, if you keep the entrance gate closed when you detect a high body temperature, you may want to display a message on the signage for general visitors, send notifications to individual smartphones for employees, and notify the person in charge of the response and have them rush over for VIPs, and so on. With Vantiq, this can be achieved by registering the faces of employees and VIPs in a facial recognition system and linking to it. This can be considered a typical example that requires a real-time response in a dynamic environment that does not know when and what people are visiting and in what condition.
The creation of new social structures for living with COVID-19 cannot wait. It is not the time to spend many months developing conventional methods. The resulting system must operate in real time. There is a global need for Vantiq's services."
Smart Cities Cannot Exist Without Event-driven Systems
Kawakita"I'm often called to events related to 'smart cities' lately. I always ask, 'What's the difference between an intelligent city and a smart city?,' but I never get a clear answer. Our answer is the difference lay in 'whether or not it can respond to events that occur dynamically in real time.' For example, it is smart to keep the signal green until a person in a wheelchair finishes crossing an intersection. It's not enough just to analyze big data and decide how long to keep it green in advance. Actually, events happen suddenly in our lives. Being able to respond to them appropriately is 'smart.'
Even if it is 'intelligent,' you cannot create a 'smart' service from a database service. We've prepared a platform that makes it easy to create smart services."
Because Vantiq is like an operating system, Kawakita says he wants more operators who can use it to create new apps. However, it seems to be difficult to switch to event-driven thinking, because the idea of using conventional databases remains strong.
Kawakita "I have met with DX representatives from various companies, but not many people believed that the secret to success in the IoT era is event-driven. So, we are proposing our own ideas. Now, I feel that we have a good deal of support.
Recently, we prepared a Vantiq development environment for GUTP (University of Tokyo's green ICT project) and have been trying to apply it to smart cities and BIM(*) linking. We also expect that in the future new startups will be created using our technology. Besides just providing technology for outstanding ideas, we would like to produce the business itself."
* Building Information Modeling. A solution for utilizing information in all processes from architectural design to construction and maintenance, which uses a building database that adds attribute data (e.g., cost, finishing and management information) to a three-dimensional digital model of a building.
ここがポイント
・Event-driven systems are necessary to take action in real time in reaction to IoT sensor information.
・A low-code development platform makes it possible to quickly create a difficult system, even for inexperienced programmers.
・ If an event-driven service can be easily created, it becomes possible to respond to the more detailed needs of the world.
・In the COVID era, responding in real time to coughing is just the sort of thing that an event-driven system can address.
・Events happen suddenly. Being able to respond to them appropriately is "smart."
・Not many DX representatives believed that the secret to success in the IoT era is event-driven.